Did you know there are over 57 million people in the United States that are trying to cash in on a $3.7 trillion pie? It's called the gig economy, and it's not slowing down any time soon. Many of our readers are familiar with the concept of the gig economy because they're already working in it!
If you drive for a rideshare company, you are one of the people contributing to this massive paradigm shift in business. Gone are the days when you graduated from college and found the job that will provide for you for the next 40 years.
Hell, twenty years in one field is mythic by today's standards and five years with a single company seems a thing of the distant past. Many are finding new ways to earn money and are diversifying their streams of income. But why is this? That answer could be an entire article in itself, but by my estimation, the gig economy has boomed because people like the flexibility it presents. Not only do we not want to be tied down to one job, one company, or one line of work, but we want to have a say over when we work, the gig economy provides this.
What is the Gig Economy?
First, let's tackle what the gig economy is! Put simply it is a labor market characterized by the prevalence of short-term contracts or freelance work as opposed to permanent jobs. According to a think tank sponsored by Adobe, the future is looking more and more like a multiple job economy for every generation still in the workforce. So what does this mean for us? Simple, most workers will operate as independent contractors, up to 43% by 2020, according to a recent LinkedIn study.
Why is the Gig Economy Exploding?
Business is shifting from the previous model for many reasons. One is flexibility for the contractor and the company that hires them. Other reasons include increased income and earning potential, reduction in stress, and most importantly, feeling as though our work is meaningful.
It's easy to grasp. We want to be in charge, and we like gaining the fruits of our hard work. For more stats on the gig economy check this insightful stash out.
How to Thrive in the Gig Economy?
Now that we understand a bit more about what the gig economy is, let's take a look at how to capitalize. According to the Harvard Business Review, there are four things you need to consider before joining the gig economy. (1) Routines, (2) people, (3) purpose, and (4) place.
Routines are critical; you cannot freewheel. People, you've got to be good with people. Place, you've got to find a space that accelerates your productivity. Mine is the coffee shop. The home office is a dead space for me. Finally, Purpose, you need to identify the why, and that is crucial to your success. Even if you know those four things, however, you still need to understand the significant differences between being traditionally employed and working as a "gigger."
Gig Economy vs. Traditional Job
One of the major mistakes made by those who jump into the gig economy full speed is that they don't account for the drawbacks at the outset. The major drawback is the fact that you lose pretty much every benefit granted by traditional employment. Health benefits, gone. Retirement plans, out the window. Ability to unionize and organize, sayonara! This means you need to be 100% on top of your game.
Taxes, expenses, costs, scheduling, and much more are now all on your plate. It's particularly crucial to sort out your taxes, especially if you're an Uber or Lyft driver, to avoid issues with the IRS.
You Have to Wear More Hats
All of the benefits of having an employer are now your job too! So even though the benefits of flexibility, making your own schedule, and the potential to earn more lay in the win column, you need to be sure to maintain balance. When you enter the gig economy you become the business from top to bottom, in fact, you are the business owner, employee, H.R. department, P.R. department, and the janitor, particularly if you decide to jump in full-time.
You Need to Diversify
What I mean by diversifying is to be sure not to put your eggs all in one basket. Our rideshare readers will know what I am talking about. You can't just drive for Uber or Lyft. In fact, driving for both and adding a third or fourth increase your earning potential threefold, if not more.
There really isn't a better piece of advice that I can pass on as a veteran of the gig economy, diversify yourself.
You Get to Do More and Experience More
I have worked in the gig economy for over seven years now as an Uber driver, Copywriter, Graphic Designer, Author, Ghostwriter, Handyman, Contractor, Teacher, and more. In all of that time and through all of the different gigs, I have learned that having a healthy stream of income coming from multiple sources is the only sure-fire way to not just survive but to thrive!
You Have to Know What is Out There
The gig-economy offers countless opportunities for individuals looking to pick up some extra cash. While you're probably familiar with UBER and other ridesharing services like Lyft, other apps like Postmates and TaskRabbit let you earn extra money by doing everything from delivering food to general chores like putting together furniture.
We have compiled a list of 41 of the top gig economy jobs that you can apply to and earn some extra scratch.
You can be More YOU!
One of the things I like to point out is that the previous economy assumed that people were only good at one thing. The fact is that people are good at many different things. Gig economy allows us to explore different opportunities and hone various skillsets.
Do you like art? Design? Dogs? Children? Maybe your thing is fixing computers or writing. Whatever your interests are, the gig economy has a niche already in the works. All you have to do is sign up!
Rideshare Gigs
Rideshare is the king of the gig economy currently, but several platforms are catching up. If you wanted to go fully self-employed, rideshare would be hard to not factor in. We have compiled a pretty comprehensive list of the biggest players in the rideshare industry, complete with hourly rates, guarantees, bonuses, and their coolest features.
1. Uber

The king of rideshare is one that hardly needs an introduction. But, here's the "schpeel."
With Uber, the premise is simple; drive your car on your time, give rides, and make money. This model was the first of its kind, giving birth to the myriad manifestations that follow in this article.
Uber's Driver program also boasts the most users, which is a benefit to anyone looking to make some extra scratch in the gig economy. You can payout instantly any time of day or night, drive whenever you please, and maintain a fair share of control over your schedule.
Keep in mind, however, that with all rideshare gigs and some delivery-based gigs, demand often dictates your schedule for you.
Potential Hourly Rate: $10-15 
Potential Bonus: Up to $1,000 Bonus
Guarantee/Coolest Feature: $1,800 in first 300 trips
2. Lyft
Lyft was the second rideshare company to hit the open market. Much like Uber, Lyft pays drivers to ferry passengers to and fro. It has maintained a much more driver-friendly platform over the years, making it a popular choice. Though I suspect Lyft is now suffering from many of the growing pains that Uber already went through, Lyft is still the second best platform to join.
Uber and Lyft are both fantastic platforms to become a rideshare driver. If you can't decide between Uber and Lyft, why not be on both? The more options you have, the more opportunities you get to earn more.
Potential Hourly Rate: $12-17
Potential Bonus: Up to $1,100 Bonus
Guarantee/Coolest Feature: $1,550 in the first month
3. Via
Ride with Via! On the heels of both Uber and Lyft is VIA, a rideshare company that is looking to capitalize on some of the mistakes made by its predecessors. With Via, riders can hail a ride much like with Uber. The main difference being the focus on shared rides.
this rideshare company specializes in a carpool style ride that relies on its proprietary algorithm that claims to produce smarter rides for its riders. Drivers are told they'll experience less frustration compared with other platforms. Passengers also benefit from a flat fee and guaranteed rate, avoiding the varying market rates of Uber and Lyft. As for Drivers, the exact number of $/per hour remains vague. However, they do boast the lowest service fee in the industry. Via is available in London, New York, Chicago, and Washington D.C.
Potential Hourly Rate: $15-20
Potential Bonus: Up to $1,000 Bonus
Guarantee/Coolest Feature: Up to 43% more pay than the competition
4. Juno
Much like Via, Juno takes a different spin on the rideshare business with a Drive focused platform. Aimed at rewarding drivers with high ratings, Juno boasts that their model relies heavily on rewarding drivers who do a good job. Happy driver, happy company! Sounds good, right? While Juno's model is intriguing, their markets are limited to New York City and New Jersey. So, if you live in those markets, give it a try! One of the most important features is that Juno plans to release 50% of its funding shares to its best drivers. It could be a huge move, but word on the street is that Juno is up for sale, most likely to be absorbed by one of the bigger companies.
Potential Hourly Rate: $12-15
Potential Bonus: Not Listed
Guarantee/Coolest Feature: Drivers are only charged a 10% commission for their services.
5. Wingz
What about a rideshare company centered solely on airport rides!? As a driver in the Denver rideshare market, I am all about this model. Wingz specializes in providing marquis rides to and from the airport. With a strong emphasis on scheduling trips ahead of time to make the riders transportation to the airport the easiest in the industry, Wingz has a niche. They also have an interesting feature that allows riders to favorite and request an exceptional driver. This could be a boon to drivers who are looking to build a clientele, instead of relying on random matches like in other programs. The company is currently expanding its offerings and markets, now existing in sixteen major metro areas and twenty-two airports. They also offer rides specific to seniors and events (sporting, concert, festival, etc.).
Potential Hourly Rate: Up to $40 per Hour*
Potential Bonus: Not Listed
Guarantee or Coolest Feature: The Favorite Driver Feature
6. HopSkipDrive
Following in the footsteps of the niche-oriented Wingz, HopSkipDrive, hopes to capitalize on drivers and riders to serve the demand for secure rides for children to and from schools. As Uber and Lyft do not allow minors to take rides to and from school, this demand has increased. HopSkipDrive boasts its safety features and background check process that ensures the user their children will make it to and from school safely. HopSkipDrive now serves over 6,000 schools.
Potential Hourly Rate: Up to $32 per Hour*
Potential Bonus: Not Listed
Guarantee or Coolest Feature: Rideshare for kids! 
7. Curb
Curb takes the road back in time a bit to the time of Taxis. This service is excellent for cab drivers who are looking to find a home since the end of the cab driving industry at the hands of the rideshare giants. What is interesting about this model compared to the way cabs used to work is the payment streamlining that Curb has applied. Much like Uber and Lyft, no need to reach for your wallet seems to be their primary motto. Cabbies will love this service.
8. Uzurv
This rideshare platform provides service for healthcare facilities and patients as well as municipally based organizations. The central goal is to provide transportation for seniors and the disabled who need it.
Rideshare tycoons have often overlooked this niche, so if you have a vehicle with the proper requirements, this could be an excellent fit for you!
Potential Hourly Rate: Premium Rates
Potential Bonus: Not Listed
Guarantee or Coolest Feature: Making money for your disability equipped ride.
We'll Keep You Updated on
All New Gigs!
Want to be notified when new gig opportunities come along? Sign up below and you'll be amongst the first to know!
Delivery Jobs
The rideshare market may be the crowned king of the gig economy, but delivery is undoubtedly nipping at its heels. If you aren't great with people or you don't feel comfortable giving people rides in the dead of night, you could consider delivery. The options for delivery are far more extensive than in the rideshare economy so you might find a gig below that fits you perfectly!
9. Postmates
Postmates is another great gig that allows drivers to make money delivering food and groceries on demand.
As a driver, the process is relatively simple. You open the app and go online whenever you want and wait for a customer to place an order. Once you get an order, you'll receive the details stating where you're going, what you're picking up, and where to deliver it. In many cases, the customer will prepay for the order. However, drivers are also given a prepaid debit card to pay for orders when needed.
Depending on your market, you may be able to deliver without a car. In certain areas, you can deliver by bike, skateboard, or even on foot.
How much money you can make with Postmates heavily depends on your area, but most drivers report earning anywhere from $10 to $27 per hour.
Potential Hourly Rate: $10-22 per hour
Potential Bonus: Based on your market
Guarantee or Coolest Feature: No need for a car!
(Includes Bonus Incentive).
10. Amazon Flex
Amazon Flex lets drivers sign up to deliver packages as part of the company's Prime Now program, which offers delivery within an hour. As long as you're able to deliver packages on time, Amazon says they'll pay you between $18 and $25 per hour. Not bad for a side hustle.
You'll have the option to pick up shifts lasting between 2 and 12 hours per day. During your shift, you'll spend your time picking up packages from your local Amazon warehouse and delivering them to customers in your area. To qualify, you'll need a valid driver's license, be 21 years or older, pass a background check, have a 4-door sedan, pickup truck, or van, and have an eligible smartphone.
Potential Hourly Rate: $18-25 per hour
Potential Bonus: Not Listed
Guarantee or Coolest Feature: Potential for growth is enormous with Amazon Prime.
11. UberEats
UBER Eats is very similar to Postmates in that you'll be delivering food on demand for customers. However, with UBER Eats, customers are limited to restaurants, whereas Postmates has many more offerings such as grocery stores. Additionally, UBER Eats doesn't require drivers to every pay for the order. All orders are paid through the app.
Other than that, UBER Eats operates very similarly to UBER. In fact, drivers who are signed up for UBER can get started delivering for UBER Eats right away. Compared with some services like DoorDash, there is no minimum hourly rate with UBER Eats. Your wage depends on how many orders you can complete per hour. Many drivers report earning anywhere from $10 to $20 per hour regularly.
The future of Uber Eats is exciting, to say the least. However, if you would like to benefit from this side hustle, it's best to get started now. Uber is continuously pushing innovations in their services, and with Uber Eats, they have begun testing drones for food delivery.
Potential Hourly Rate: $10-20 per hour
Potential Bonus: Not Listed, though you could feasibly get a quest bonus each week.
Guarantee or Coolest Feature: There really isn't a feature that stands out from UBER.
12. GrubHub
Delivering with GrubHub is going to be very similar to any other food delivery gig. You get in your car, go online, wait for a customer to place an order, and fulfill that order.
One of the best aspects of delivering for GrubHub is that it guarantees a minimum wage for drivers who work in certain markets. In these markets, drivers will earn at least $10.50 per hour as long as they accept at least 85% of orders. Otherwise, they will earn a flat fee of $3.25 plus $0.50 per mile per delivery. As GrubHub encourages customers to tip through the app, GrubHub drivers tend to make between $15 and $25 per hour.
Potential Hourly Rate: $10 Guaranteed Hourly Minimum
Potential Bonus: $250 Signing Bonus
Guarantee or Coolest Feature: Mileage Compensation
13. DoorDash

Once again, we have another food delivery app. With this service, the process simply consists of waiting for customers to place an order and fulfilling that order. However, with DoorDash, you typically need to sign up for shifts in advance, but you can go online without signing up if a time slot is available.
It's easy to start with DoorDash. Their requirements are relatively standard. You need a reliable vehicle, a valid driver's license, must be at least 18 years old, you must have valid insurance, and be able to pass a background check. Once you complete orientation, online or in-person, you can begin delivering.
One of the significant aspects of DoorDash is that the app shows you the amount that you are guaranteed to receive before accepting an order, so you can decide whether or not it's worth it. Additionally, like UBER, DoorDash has busy areas which have boosted prices. With tips, you can expect to earn between $15 and $20 per hour.
Potential Hourly Rate: $15-20 per hour
Potential Bonus: $250 Signing Bonus
Guarantee or Coolest Feature: Block scheduling gives you control
14. Shipt
Shipt is one of a few on-demand grocery delivery services that has grown in popularity recently. Like many other gigs, Shipt shoppers can set their hours according to their schedule.
Applicants must be 18 years old, have a valid driver's license, have a vehicle from 1997 or newer, be able to lift at least 40 lbs, and must own a smartphone.
Shoppers go to the grocery store and fulfill the order placed by the customer. They then will use a prepaid Shipt card to pay for the order at the store.
You can expect to realistically make around $20 per hour and are paid weekly.
Potential Hourly Rate: Up to $22 per hour
Potential Bonus: Not listed
Guarantee or Coolest Feature: Get paid to shop!
15. Instacart
Do you love shopping? Well, Instacart is your gig. Instacart provides two levels of service: one is to be an Instashopper and deliverer, or just shop! Their primary focus remains in the grocery industry. However, they are expanding rapidly into additional spaces. If you love shopping and want to make money checking off lists, you can either get a job as Santa Clause or with Instacart.
Potential Hourly Rate: $7-20 per hour
Potential Bonus: Not listed
Guarantee or Coolest Feature: Part-time shopper option is an employee position, not a contractor.
16. Caviar
Caviar claims one of the highest per hour rates for delivery drivers at up to $25 an hour. Not only do you keep 100% of your tips. They also give you all the information up front, something many in the gig economy have fought tooth and nail. The service focus on delivering in twelve metropolitan areas currently and is expanding fast.
Potential Hourly Rate: Up to $25 per hour
Potential Bonus: Not listed
Guarantee or Coolest Feature: Transparency, know where you are going before you except.
17. Roadie
Roadie is an on-the-way delivery service with designs on cashing in on some of the same-day delivery hysteria that exists in our economy. Need groceries, home improvement tools, prescriptions, furniture even? The service finds drivers with the appropriate vehicle and matches them up with appropriate deliveries on behalf of companies that need deliverability. This company set itself up as an alternative to Amazon Prime and its shipping infrastructure. One of the most interesting features on the platform is the ability for the driver to choose the type of gigs they want to accept. This flexibility is a boon to drivers who want full customization.
Potential Hourly Rate: Up to $60 driving locally or Up to $650 on a road trip
Potential Bonus: Not listed
Guarantee or Coolest Feature: You can take a road trip and get paid!
18. OrderUp
This was a program that showed a lot of promise in breaking into multiple markets quickly. It has since been acquired by the mega partnership of Groupon-To-Go and Grubhub. So little is known about how the drivers already active on this platform will respond. If you are currently an OrderUp driver, we'd love to hear what's going on behind the scenes. For more information on Grubhub look above!
19. Favor
Favor is a smaller outfit with multiple markets open in the state of Texas. Their operations seem to center around Universities and millennial purchases, particularly clothing and footwear, although they also delivery food, groceries, and basic staples. Throw in the fact that each runner has a goofy uniform and you are set to go "running" for Favor.
Potential Hourly Rate: $10-18 per hour
Potential Bonus: Not listed
Guarantee or Coolest Feature: You get a wicked blue tux t-shirt.
20. Eaze
Eaze is taking the niche-oriented courier service to the next level, with a specialization in cannabis delivery. This gig app partners with licensed dispensaries in California and limited markets in Oregon. Their program centers on providing a valuable service to the community by way of delivering medication to those with limited access. If you are a supporter of the cannabis movement and culture, this could be the perfect courier gig for you. They don't just boast guaranteed rates for their drivers. They also claim mileage reimbursement.
Potential Hourly Rate: $10-18 per hour
Potential Bonus: Not listed
Guarantee or Coolest Feature: Mileage reimbursement
21. Minibar
Guaranteeing beer, wine, or spirits to your door in less than an hour is a great rallying cry. Minibar is one of the many courier companies scrambling for supremacy in the booze-delivery market. They appear to be ready to crash into the market place soon, though current plans are unknown.
While we're waiting for more follow up on on-demand delivery positions, consider giving their services a try yourself.
Here's a $10 promo code to use toward your first purchase: AJ043276. You can redeem it in-app after downloading it here:
Download Minibar app and use code here.
22. Saucey
Saucey follows the basic DoorDash model, with their primary differentiation being they deliver booze! The structure of their system is laid out much like DoorDash, pick your region and your time and be ready to deliver. Markets available for drivers to apply to include Chicago, Dallas/Fort Worth, Sacramento, Los Angeles, San Diego, San Fransisco, and New York City. This opportunity could be one to keep an eye on if you are interested in jumping on board the gig economy. Why do you say? Because booze is king! People will pay absurd prices on weekends to someone willing to bring them their next drink.
Potential Hourly Rate: $10+ per hour
Potential Bonus: Not listed
Guarantee or Coolest Feature: Massive growth potential, people love their booze.
On-Demand Moving Jobs
If you don't have a car or if you have a specific kind of car like a truck, cargo van, or trailer one of the following gigs might make sense. Moving jobs in the gig economy are poised to make a big splash in the coming years. Its biggest benefit is the potential money you can make if you have a truck! Been driving your truck for Uber or Lyft? Check out Dolly!
23. Bellhops
This service looks to be popular among the young crowd, particularly young men in college. Taking a page out of the 1-800-Junk playbook, Bellhops claims that the average gig worker can earn up to $21 per hour. Make your own schedule and get paid weekly they say! One of the coolest features on this gig platform is the preferential jobs front. For Bellhops who gain high marks, certain high paying jobs will become available. This feature is bound to capture the hearts of the hard-working gigger. Bellhops do not require you to own a car, which will be a hot feature for those without wheels. All you have to do is get a ride to the location, be in great shape and be ready to move!
Potential Hourly Rate: Up to $21 per hour
Potential Bonus: Not listed
Guarantee or Coolest Feature: No need for a car!
24. Dolly
Unlike Bellhops, Dolly has two modes of earning dough. One is by being a "helper" the other is simply by being one of the "hands." Helpers are gig workers with a truck, cargo van, or trailer that can assist in moving the big-ticket items. They earn upwards of $30 per hour, whereas the hands earn only $15 per hour with the aid of their standard vehicle. Guaranteed pay and the ability to make your schedule are again major features on this gig platform.
Potential Hourly Rate: Up to $21 per hour
Potential Bonus: Not listed
Guarantee or Coolest Feature: No need for a car!
On-Demand Peer-to-Peer Vehicle Rental
If making money driving your car for rideshare or delivery wasn't enough, what if your car could make you money when you aren't even using it? It's a risky proposition for some, but many are jumping into the car rental industry. All of the following gigs offer up to $1,000,000 in insurance for each instance where your car leaves your possession, which should put minds at ease. But the question remains, do you want your care to lose your money or make you money?
25. Turo
For a long time, people have wrestled with the fact that cars are a depreciating asset. Well, not anymore! Turo and the following companies have turned car ownership on its head. With Turo, you can lend your car to a licensed driver who has passed a background check when you aren't using it. I don't think I would be up for letting my ride out of my sight, but some might be interested to know. Turo allows you to rent out your car, much like Air BnB allows homeowners to rent out rooms or homes. Pay comes in weekly and is not instantaneous. Accurate pricing for your ride is part of their proprietary algorithm which factors in time of day, season, demand, model and make, etc. If you don't drive much and you own a sweet ride you could make some coin.
26. Getaround
If you are looking for slow pay, Getaround is your gig. Pay comes out monthly for the rentals that your car accrues. Rates for drivers can go as low as $5 per hour, so it would not behoove you to solely rent your car out on this platform. If you are genuinely trying to make money in this sort of gig economy, you would need to tackle each of the car-for-hire services. Getaround functions in much the same way that Turo does, as well as offering $1,000,000 in liability insurance on each ride.
Need a car (click the following link for a $20 credit) or want to earn money to share your own? Sign up for Getaround here.
27. Maven
Listing your car on Maven isn't much different than listing with the other two previously mentioned apps. Though Maven does a far superior job selling you on the benefits. From the outset, they show you how much your car could be earning you over the year. What if you could eliminate the need to make your car payment with your day job, and make a few thousand extra bones per year? The other great feature coming out of Maven is the ability to get into a line of Chevrolet cars for rideshare and delivery gigs. Need a car? Check out Maven!
28. HyreCar
Following that model, Hyrecar allows a hybrid function for those who have cars and those who need them for rideshare. If you were interested in driving for any of the above rideshare gigs, Hyrecar could find you a car. If you have a vehicle you'd like to stop making payments on, Hyrecar can insure your car and send it out on the road to aid someone in the rideshare business. Hyrecar boasts the potential to earn up to $14,000 per year on your car all while insuring your vehicle up to the standard $1,000,000 liability insurance.
On-Demand Freelance Jobs
What if you want to be a part of the gig economy, but you don't like driving? Well, there are plenty of options here. What are your skills? Do you have an eye for graphic design? Maybe you know how to build one hell of a website. The list of gig economy platforms below might give you a chance to cash in on all that freedom you've always wanted. When I got into the gig economy four years ago, this is where I started, and I can attest to its power.
I'm still getting gigs on each of the following platforms each month. The primary difference here is that these platforms do not function like the ones listed above. These need to be treated as though you are running a business and a brand. You'll need to set up profiles, bid on jobs, and keep yourself motivated. Gigs won't be coming to you on these platforms. You'll have to get them.
29. Freelancer
For those with a unique skill set like web design, app development, copywriting, etc., Freelancer is one of the top platforms available to make some extra scratch. Centered on the technical side, the company allows freelancers to compete in an open market economy for jobs. Unlike many of the gigs on this list, however, you need to have the skill set required of the position and the ability to sell yourself as the top hire. Whether your skills are in delivery, web design, writing, or illustration, Freelancer has a bevy of jobs available. Over 34.2 million freelancers are signed up, myself included. Word to the wiser, be prepared to sell yourself. It's not an easy platform to master.
30. Fiverr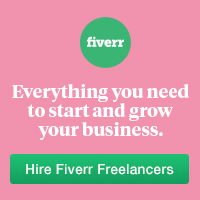 Fiverr takes the Freelancer model and simplifies it. The platform allows freelancers to offer specific packages and set their own prices for said services with ease. Options are extensive in terms of what skills you have. If you are good with art, writing, web design, whatever it is, Fiverr has someone ready to pay you for your services. However, don't look for much support in getting your face out there from Fiverr. This side of the gig economy is much more hands-on than Uber or Lyft. But, if you've got the drive and the skill you can make a good chunk out of hawking your skills on Fiverr.
If you are an entrepreneur/business owner, consider hiring talented but affordable Fiverr freelancers to assist: Business Owners sign up here
31. Hubstaff
Unlike many of the other platforms in the freelance gig economy, Hubstaff offers a no fee, no bidding approach. Upwork and Freelancer rely on an open market model that requires freelancers to compete for jobs. If you run out of bids on one or the other you often have to pay for more. Not with Hubstaff, their approach focuses on a sophisticated matching system that promises high-quality leads. They promise you'll only get leads that you can close.
32. Upwork
Upwork is my favorite platform in the freelance gig economy sphere by far. My primary gig is writing, in particular copywriting, and Upwork never fails to deliver clients. Their interface is clean and functional, allowing you the ability to save jobs you are interested in before applying for them. They also offer a standalone profile for you to be discovered by potential clients. Upwork, like many online freelancer platforms, offers a range of opportunities, no matter your skill set. This universal hub could function as your only tool for job generation if you play it smart.
33. 99 Designs
While all of the other freelance platforms do feature web design, none of them present it as their niche. 99 Designs, however, focuses entirely on providing the biggest pool of design talent. If you produce logos, websites, book covers, or anything similar 99 Designs has a space for you artistic types. You'll need to sport a pretty nice rig (computer) to complete most jobs and honestly some background in graphic design to succeed though.
On-Demand Task Jobs
Maybe the techie side isn't your bag; perhaps you're a hand on kind of person. The following list of handyperson gig platforms might have the perfect setup for your skills. Do you like cleaning? Fixing things? Installing appliances? Maybe you are a contractor looking for more clients. From Task Rabbit to Takl we've tackled the best of the best in the handy hands' category.
34. Task Rabbit
TaskRabbit is a unique option for individuals working in the gig-economy as it gives them the option to perform a variety of jobs from furniture assembly to being a personal assistant. Some of the other most popular categories are cleaning, moving, delivery, and handyman services.
It has several enticing job qualities, such as the ability to set your own rates and schedule. This means that you could potentially make quite a bit more than you would make from other gigs.
Eligibility requirements are relatively straightforward as potential taskers need to be 21 or older, have a checking account and credit card, and must pass a background check.
35. Handy
Do you have a knack for cleaning or fixing things? Maybe you are a contractor who is looking for some extra leads? Handy specializes in connecting you with people who need to get things done. If you're skilled in installation, construction, cleaning, or putting together furniture, you might have a killer time working for Handy. The bulk of their jobs look to be on the smaller end, so if you've ever worked as a handyman or maid, you could launch a business of your own this summer.
36. Puls
For all the tech-savvy hands on guys and gals, Puls features a platform ready to serve those who aren't so technical. Earn up to $60 per hour installing appliances, fixing garage doors, or setting up smart homes. The array of jobs is quite intriguing. Entry onto the platform requires little in the way of a barrier, including a standard background check as well as authorization to work in the United States.
37. TaskEasy
If you've got the tools and the experience in landscaping and lawn care, TaskEasy is the platform to tackle. Focusing on lawncare, TaskEasy not only connects you with prospective clients but also gives you a business suite. Manage your business in one place with their proprietary software and application.
38. Takl
Takl is the premier handyman's app, featuring all the jobs that no one wanted to do. Fix a ceiling fan, mow a lawn, haul away junk, and even cleaning. If you are someone who has a host of scattered skills in your toolbelt, Takl can quickly get you clients. Free scheduling and the ability to set your own prices are some of the primary features on this platform.
On-Demand Sitter Jobs
Ok, we are in the home stretch. This list features the softer and more nurturing side of the gig economy. What about all of the needs of children, seniors, and pets? Well, we've got a few choice gig platforms that could provide you with the necessary income to get out of that dreary job. If you like kids, seniors, pets or have experience working with them, check out these gigs!
39. Rover
Rover is another unique gig that allows you to make money as a dog sitter. You simply sign up and, once you're approved, you're connected to dog owners throughout your area who need dog sitting, dog walking, and other dog care services.
It's easy to set your own schedule, list what services you can provide, and even set preferences relating to the types of dogs you'd prefer to work with.
Since you'll be working with people's beloved pets, the screening process is pretty strict, as you might expect. The company states that only about a third of applicants are accepted, so if you need a gig now, this might not be the best option. As you can expect to make up to $1,000 per month, other gigs offer much higher earnings. However, if you're simply looking to add a little bit of extra side income doing something fun, Rover might be the perfect option for you.
40. Care.com
Childcare is a huge industry, and Care.com aims to provide everything from childcare to senior care and pet care. If you are inclined to work with children, seniors, pets, or just want to clean people's homes, Care.com specializes in linking paying clients with licensed and vetted professionals. This is a particularly niche platform that does a very stringent background check, and reasonably so.
41. UrbanSitter
If you are 18 years old and can pass a background check and you enjoy working with children, UrbanSitter has a gig for you. What sets UrbanSitter apart is the feature that gives you a leg up on the competition, if a family likes your service Urbansitter displays the information for other potential clients.
BONUS Gig: CARGO (An 'add-on' for UBER and Lyft Drivers)
The on-board convenience store for your Uber
Ever wish that your rideshare ride had snacks onboard? Maybe you already do have snacks but replenishing your stores has become costly. Well, don't fret because Cargo has your back. This innovative rideshare solution allows you to earn money and try out new items and snacks in one easy to use package.
Cargo ships you a neat onboard snack container to place on or in your console. Riders can then peruse and purchase everything from candy bars to chips to car charging cords. All you have to do is sit back and collect the money. Cargo deals with replenishing the stock and you get paid extra for each sale. You can even try out some of the items yourself, up to two items per monthly period. Most drivers earn an extra $100-$300 per month (depending on whether you're a part-time or full-time driver), just from Cargo alone. It also has positive tipping and rating implications, because passengers love it. If you ask me this one is a no brainer for every rideshare driver. Why wouldn't you want to make a little extra coin while taking people around town It is free to sign up and free to maintain, it's like taking candy from a … well, a Cargo box.
Available U.S. Markets: New York, Chicago, Boston, Washington D.C., Baltimore, Atlanta, Minneapolis, St. Paul, Dallas, Fort Worth, Los Angeles, San Francisco, Miami.
You can Sign Up for a Cargo Here
Wrapping UP
This list is long, but it is by no means exhaustive. There are hundreds, if not thousands, of gig economy platforms that are crushing it right now. We could only cover 41 within the scope of this article/guide, but rest assured the way people are doing business now is shifting and doesn't seem to be looking back anytime soon.
With the advent of blockchain technology, these sort of peer to peer apps will expand the freelance economy tenfold over the next few years. It would be in your best interest to get on board now, so you don't get left behind!
What's ahead in the gig economy for 2019 and beyond?
This is anyone's best guess at this point, and I am not a prognosticator! It seems at this point that the gig economy is due to expand and encompass more than half of the U.S. workforce by the end of 2020. What that looks like is hard to imagine. All you have to do is look back ten years ago and see how much has changed. Uber, Lyft, On-demand child care, delivery for everything under the sun, all of these things were unheard of.
I estimate that every aspect of our lives will have highly specialized experts that we will hire to help us organize and maintain our increasingly complex lives. No corner of our lives will go untouched. As the "giggers" continue to grow their own brands and businesses, there will be more and more opportunity for others to enter the workforce in increasingly niche areas. Thus far, there isn't a sector in our lives that hasn't been touched, and I don't see why expansion will slow. On-demand laundry? I'm in! On-demand cooks and chefs? Totally! You might have an idea yourself for an app that streamlines some aspect of your life, and it could even be the next big thing!
The gig economy rose to prominence because needs weren't being met. But if you want to thrive, you need to stay up to date!
A final note…
One of the keys I have found to be most illuminating is that of continuing education. If you are truly thinking of joining the gig economy full-time, you cannot rest on your laurels. It's important to continue to grow and learn every day. You can accomplish it in many ways, including online courses and university certificate courses. Watching Youtube videos is also a great idea. You have unlimited opportunities, but the best way is to stay educated. Knowledge is power, particularly when you are positioning yourself as an expert for hire.
We'll Keep You Updated on
All New Gigs!
Want to be notified when new gig opportunities come along? Sign up below and you'll be amongst the first to know!